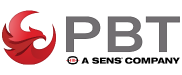 Battery Monitoring Products
Manufactured by PBT, a SENS company.
Stored Energy Systems Acquires Phoenix Broadband Technologies
Phoenix Broadband Technologies joins SENS to expand SENS' advanced industrial battery chargers and DC power systems offerings to include PBT's industry-leading battery monitoring systems.
PBT has distinguished itself from its competitors by providing highly scalable, fully-featured monitoring systems with open interfaces and networking that integrate into virtually any network monitoring system. As a result, PBT's monitoring systems are in use with some of the world's largest and best-known Fortune 100 companies and have become the de-facto standard for cable TV networks. PBT is an emerging power in other Telecom environments such as equipment huts & closet installations and in the electric utility sector where most users now recognize that automated monitoring systems provide real-time results and are more cost-effective than manual measurement methods.
SENS has offered integrated battery check systems for more than a decade in its industrial chargers. Adding PBT's technology and expertise into the fold, SENS' monitoring systems will provide much more timely, accurate, and even predictive information on battery health. Bill Kaewert, SENS CEO said, "More and more of our industrial and utility customers are recognizing the value of advanced battery monitoring for applications such as switchgear backup power. PBT will enable us to be on the forefront of satisfying this need cost-effectively."
The acquisition will expand PBT's market presence to industrial markets and enable SENS to provide a more complete system offering.
SENS is currently celebrating its 52nd year of operations. As of March 1st, 2023, after being in business for nearly 20 years, PBT joins the fold under the same leadership who realizes that the strong innovative cultures of both companies make them ideal partners.