SENS Value-Add

Battery selection for DC power systems can be daunting and time consuming.
As a leading battery charger supplier, SENS personnel have intimate knowledge of batteries. So, you can rely on SENS to supply your battery needs for a wide range of applications including switchgear, engine starting, utility, process-control, data center, or communications.
Our trained systems support engineers can help you select and size the best battery for your application / environment while providing single source convenience at competitive prices.
Having a wide range of quality battery manufacturers in its arsenal, SENS can select the product that makes the most sense and custom design a system to meet your need.
Single source convenience with compete sizing confidence
Technical resource for proper application & product selection
Relationships with multiple manufacturers to ensure best fit and price
Whether you are looking for a 10-year or a 20-year design life requirement, a flooded lead acid, AGM lead acid, or a Nickel Cadmium — SENS can provide a solution. We also provide system assembly, free-standing racking, relay rack assembly, spill containment, and indoor or outdoor cabinets. SENS can make it happen so you don't have to.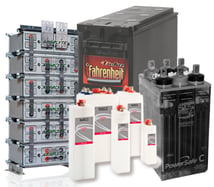 Battery Technology and Key Suppliers
| 10-year Design Life Absorbed Glass Mat AGM | 20-year Design Life Absorbed Glass Mat AGM | 20-Year Design Life Flooded Lead Acid | 25-Year Design Life Ni-Cd |
| --- | --- | --- | --- |
| | | BAE | Saft / Alcad Sinter Plate |
| | | | Saft / Alcad Pocket Plate H |
| | | | Saft / Alcad Pocket Plate M |
| | | | Saft / Alcad Pocket Plate L |
| | | | |